The Paris-Bourbon County Library is established as a taxing district under KRS 173.710. This means that the Library is funded by you, the citizens of Bourbon County! The Library annually levies a tax against real estate, tangible personal property, and motor vehicles. The tax rate is set annually by the Paris-Bourbon County Library Board of Trustees in accordance with prevailing Kentucky law. The taxes generated provide most of the Library's annual operating funds. The general breakdown of annual revenue is as follows:
Tax: 94%
Gifts/Memorials: 0.2%
Copies: 0.3%
Interest: 2.3%
State Aid: 1.7%
Miscellaneous: 0.9%
E-rate reimbursement: 0.6%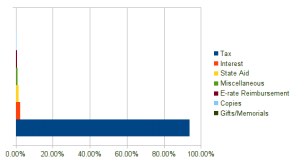 Gifts and memorials are outright donations of money to support the Library and its operations.
Copies income is generated by copies paid for by patrons. This income does not figure the cost of materials and equipment service paid for by the library.
Interest income is generated by interest by the Library's assets.
State Aid is money provided to the Library by the Kentucky Department for Libraries and Archives. The amount provided is based solely on county population. All qualifying counties receive some State Aid.
Miscellaneous income includes money collected from the fax service, overdue fines, payment by patrons for lost or damaged items, and other items such as rebates (yes, we do apply for any rebates we can).
E-rate is a federal program managed by the School and Libraries division of the Federal Communications Commission (FCC). The program allows for schools and libraries that meet the outlined criteria to apply for a reduction in costs for Internet and telephone access. We diligently file for this assistance annually.
PARIS-BOURBON COUNTY PUBLIC LIBRARY
701 High Street
Paris, Kentucky 40361
Phone: 859-987-4419
Fax: 859-987-2421