Meeting Room Reservations
The library has three meeting rooms available for public use at no charge. AV equipment, including an internet-connected laptop, projector or monitor, and speakers, are provided upon request.
The Second Floor Conference Room seats a maximum of 10 participants around a conference table. Food and drink are not permitted in this room.
Community Rooms A and B, on the first floor, are flexible spaces that can be reserved separately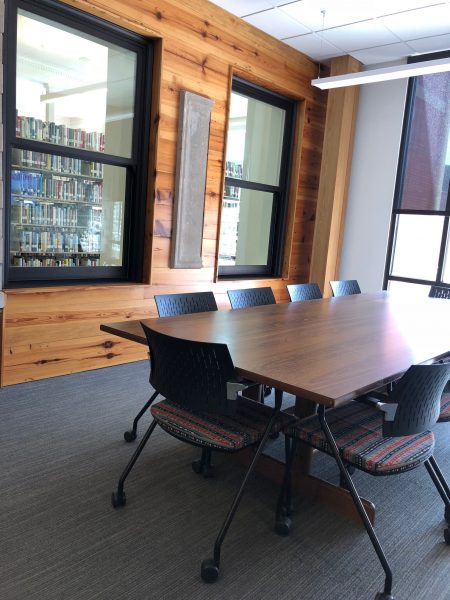 or combined into one room for larger events. Light refreshments (including snacks and boxed lunches, but NOT including catered, buffet, or sit-down meals) are permitted in these areas, and Community Room B includes a kitchen with a refrigerator, range, sink, and microwave.
Reservations may be made by phone at (859) 987-4419, or through our online room reservation system.
Library-sponsored programs are given first priority for meeting room reservations. All meetings must be non-profit in nature. For-profit entities may reserve our spaces, but may not conduct any sales or for-profit activities in the library. Private parties and showers are not permitted, and patrons are required to return the room(s) to the state of order and cleanliness in which the room(s) were provided to them. Since these spaces are in high demand, evening and weekend reservation spots are limited to twelve (12) per person/group per year. There is no limit on weekday (9-4:30, M-F) reservations.
For more information about patron rights and responsibilities, and library rules and guidelines, related to meeting room use, please read our complete Meeting Room Reservation Policy.